Free Pattern - I want to show you how to easily make a miniature or doll size pillowcase and pillow.
These directions are simple and if you are a beginner or intermediate seamstress, or hand sewing is more your things, then you will be able to make these pillowcases and pillows.
Let's get started!
Supplies: Gather the following-
Cotton fabric , white for the inserts, and colored print if you want a fun pillowcase- 10" x 10" cotton scraps or 1/4" yard cotton fabric
flat or ruffled lace, preferable 1/4" wide and not too big.
Polyester fiberfill for filling small pillows
Straight pins, needle, white thread
Sewing machine.
Excerpt taken from my Cottage Style Miniature Bedding Pattern available in my Etsy shop- Ribbonwood Cottage
CUT:
1- 3 1/2" x 3" piece —for main pillow piece
1- 1" x 12" piece— for pillow ruffle OR
1 - 1/4" x 6" piece of flat cotton lace
ASSEMBLE:
Fold long piece of fabric in half lengthwise. Sew a 1/4" seam using large stitches. Now
gather along the raw edge of the folded piece. Do not sew tight little stitches that can't
be pulled to gather the fabric, so use a large stitch on sewing machine. This piece is
very small I realize, and takes time to get it to look just right.

Pin ruffled piece or flat lace to the long side of the rectangular piece and sew. Remove pins and
fold the Sham/Pillowcase in half. Sew together the two sides that have no ruffle. Now
turn it right side out. Press it carefully
To make white cotton pillow insert-
MINIATURE PILLOW INSERT (FOR INSIDE PILLOWCASE)
This is to make one pillow. For two pillows, repeat this process a second time.
CUT:
1- 3" x 5" white cotton fabric piece per pillow
ASSEMBLE:
Using your fingers fold the raw edge inside about 1/4" or less, pin and sew closed.
Press for a smooth finish. Pressing always makes things look professional and finished.
Stuff the pillowcases with pillows! Voila!!
This is how I make all my little pillows. I often make 10-15 at a time because it is more beneficial to me
to make several bedding pieces all at once.
Here are some extra ideas:
A simple sheet can be made by cutting a white piece of fabric 6.5" x 7.5" Hem all four sides by turning
the edges over 1/4" and then again 1/4" Pin and sew all four sides.
When you turn the edges over 1/4" and then again another 1/4" it covers the raw edges. When sewing you
sew along the folded edge which hems the sheet.
Another idea, Cut a piece of pastel colored wool felt and use as a blanket. Wool does not fray so there is no need to hem the edges. Hemming wool makes it very bulky and in the end it does not lay or hang well on a miniature sized dollhouse or doll bed.
Cut the wool in a rectangle a little bigger than
the sheet is. Since the sheet was first cut 6.5" x 7.5" and then sewn, the end measurement of the sheet is approximately 6" x 7". The wool felt could be cut 6.5" x 7" to start with. It will be big enough to cover the sheet you are making.
Cover the sheet with the wool felt, and then add pillows.
If you need more bedding ideas, patterns and instructions I have several patterns available in my shop.
Cottage Style Dollhouse Bedding - Mattress, Flat sheet, matching pillowcase, comforter, shams and more!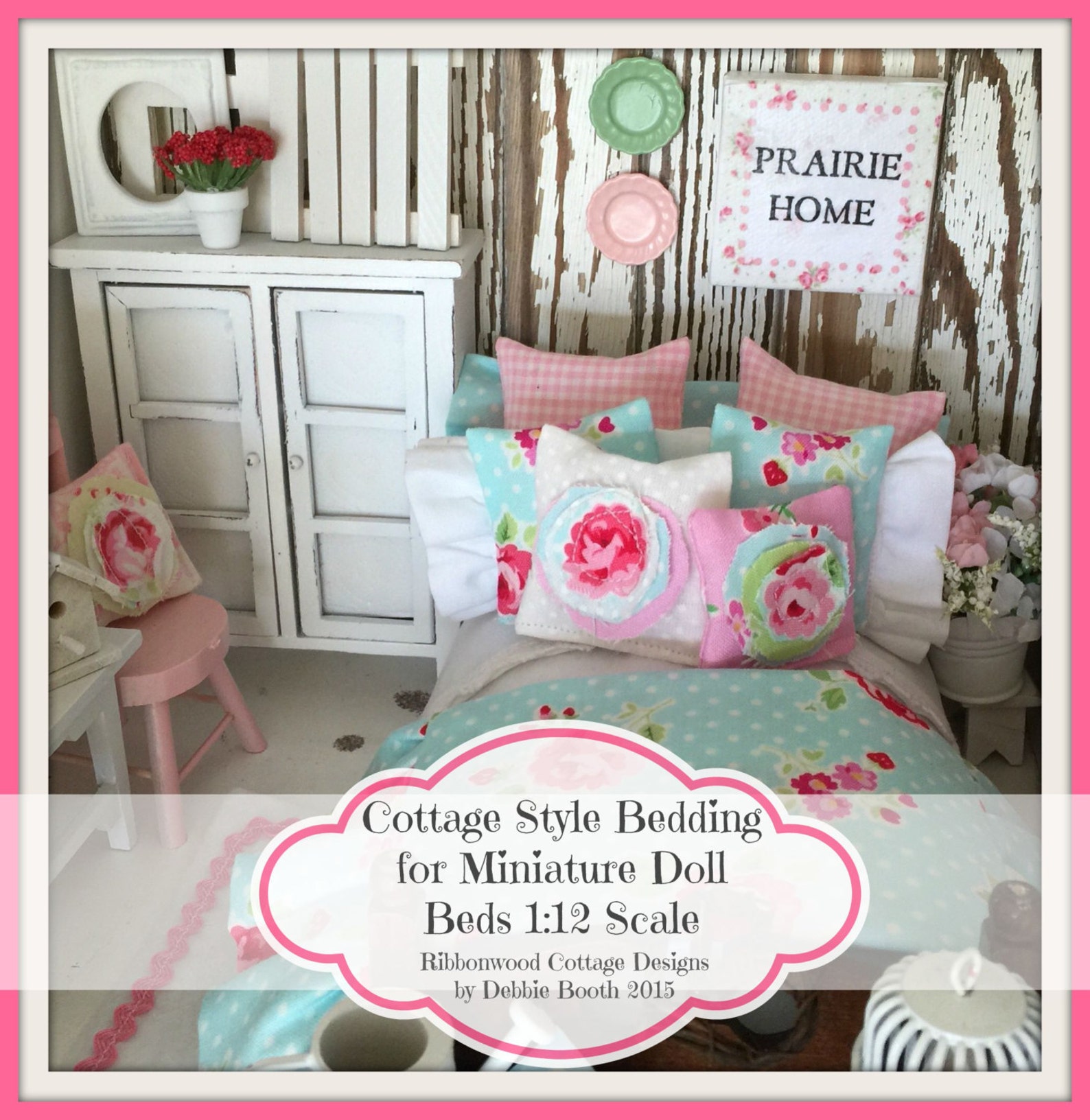 *Just a side note, when I was young, probably 8 or 9 my mother let me pick out fabric and taught me how to make basic things. A doll blanket, then a bedspread, and pillows. I started with pretty fabric and straight lines. But it created in me this love for creating and making and sewing, and crafting....it stirred something inside me. In later years that sewing skill helped us through some dark seasons when I stayed home, quit my job and took care of my parents. My mother had Alzheimers. Sewing and creating created this comforting peaceful place in my soul. And I was able to sew and sell things in my Etsy shop and help pay bills. All from learning a basic skill.
The most important thing I want to share - when I make these patterns, over 150 now, I make them as simple and easy as possible because....if by chance I can stir someones heart, create a love for sewing in them, and create a comforting peaceful place in them, then that is what I live for.
And my patterns are pretty basic and easy to follow. I make them with beginner seamstresses in mind, so that
frustration is minimized and success is promised. At least that is my goal!